We, Karuppaiah Sculptures have made silver kavasam for 6 feet Mariyamman statue.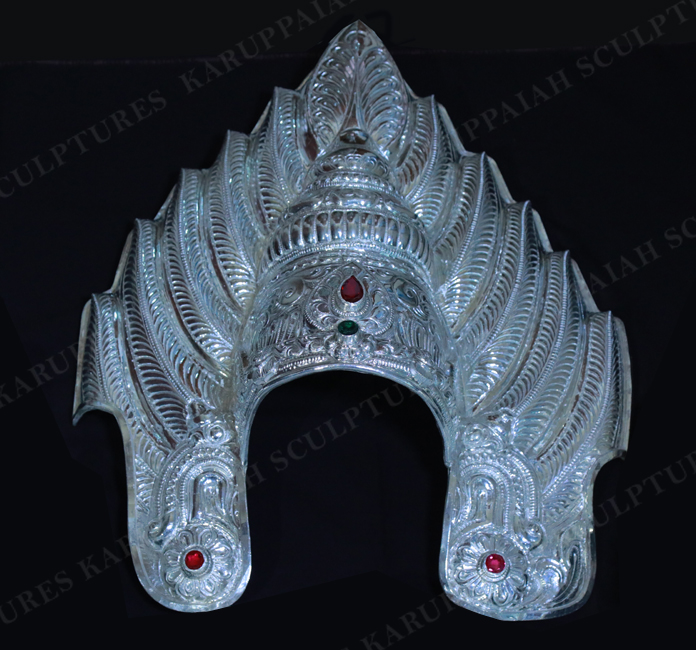 The kreedam includes karnapatram and flames of fire in the kreedam. A red stone is fixed in the centre of the kreedam. Two red stones are fixed in the karnapatram and this is enjoined with the kreedam.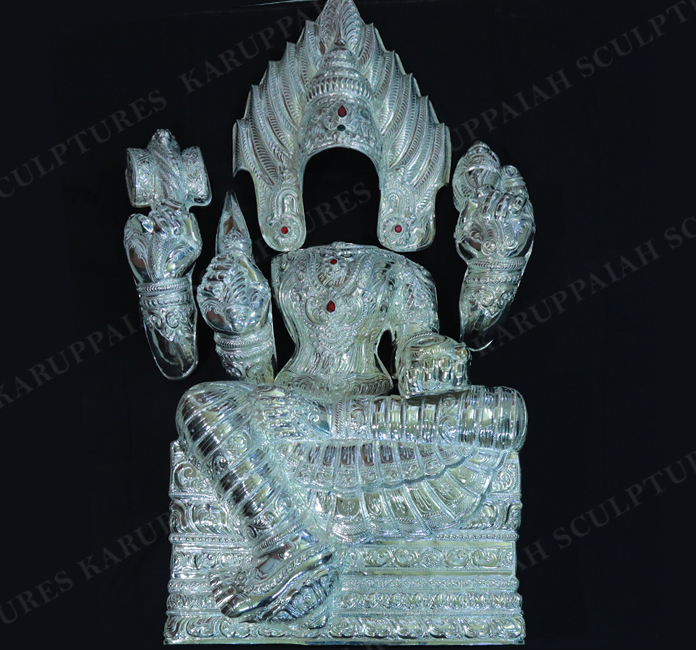 The kavasam in the chest in designed with ornaments and 2 colour stones fixed in it. There is a Yaali faced lace around the hip. The Goddess holds a noose in the left rear hand and a snake coiled udukkai in the right. There is a sword in the front right hand and a kumkum bowl in the left hand. The left leg is folded towards to the right thigh and the right leg is suspended towards the ground, and placed on a lotus. The Goddess is seated on a fully designed peetam. The saree of the Goddess is spread in two layers on the peetam. The Goddess in this full silver kavacham is gladly blessing her devotees.
The making of the silver kavacham:
We take the impression of the statue using honey wax. Using sand and cement mixture, we get the mould of the Goddess, for further work. Pure silver sheet is then placed on this mould and using wooden and steel hammer and with full handy work, we again get the image of the Goddess in the sheet. This embossed sheet is then placed on the original statue to satisfy the fitting. Necessary designs are meticulously drawn on the mould using pencil, hammer and other small instruments. After designing, the silver mould is heated using a gas torch. This is then immersed in a mixture of water and Sulphur that gives it, a milky white colour. This is then hand polished and given to the customer.